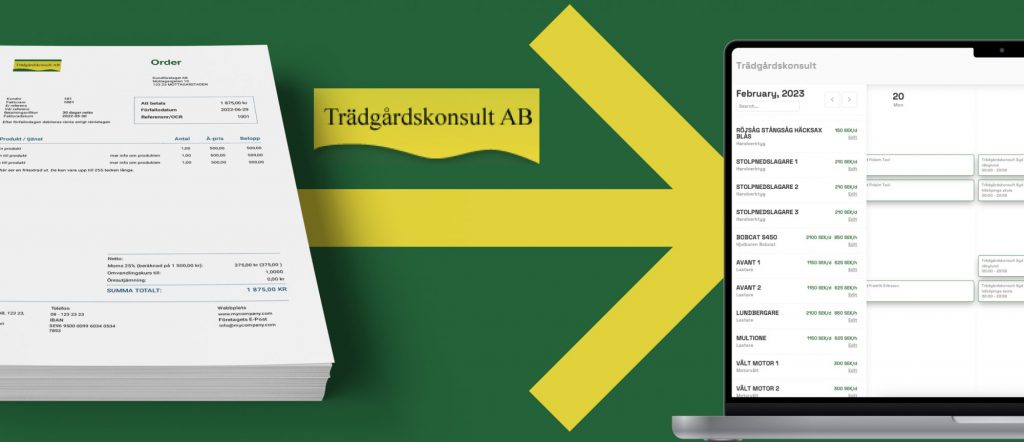 Trädgårdskonsult — digitising a paper booking system ultra fast.
Background
Trädgårdskonsult, a garden consultancy company based in Stockholm, contacted fastdev looking for a digital booking system. Fastdev rose to the challenge, creating a fast and efficient web-based application in record time.
The challenge
Trädgårdskonsult called fastdev and explained their problem. Each morning machines and equipment are booked to be used that day at Trädgårdskonsult. The bookings are taken down on paper and filed in binders. At the end of each month pages are created in excel and sent to invoicing. Staff then create invoices in an invoicing application, which are then imported into a bookkeeping application. It's a lengthy and inefficient process.
Could fastdev digitize the process making it faster and more efficient?
Our solution
We produced a design based on the first customer call and sent this to the client for feedback within 24hrs.

We created a simple-to-use web-based booking interface (based on the design), and the link was sent to the customer — within a week.
Iteration of functionality was done over the phone with the customer over the next week.
"Fastdev created exactly what we were looking for — a great result."
Result
We were able to create an effective solution in two weeks — from scratch. From the initial phone call to the final web-based application, all the major work was done and delivered to the customer in rapid time.